Технические характеристики двигателя nissan gtr vr38dett
Description
No More Restrictions, No More Restrains
If you are looking into this path of adventure and excitement this means our mentalities collide. That's right who likes to be confined by any restraints? The manufactures have no choice but to restrain the cars from their capabilities from factory. Although the GTR is already one mean machine, many believe it lacks in some aspects; the power being the main one.
The days where +1000whp cars were considered unsuitable for daily driving are over. We took our experience and knowledge, combined it with the GTR platform and made it possible for you to have an untouchable car both on the track & street while maintaining that stock driveability. Forget about building yourself a Sunday driver. Forget about having to tow your car on the trailer, forget about sitting on your porch and waiting to unleash your beast every weekend. With our crate motor you can go to work, take your kids to soccer practice, do your grocery shopping and even drive across country while making enough power to be untouchable at the track. Doesn't sound bad for a bottom 8second quarter mile car does it?
Stage Who?
Here at Magnus we do not believe in stages. Unlike our competitors we are against cutting corners only to offer our customers with a cheaper engine. All of our engines receive the same high quality parts and machining whether making 300hp or 1,000+hp. Quality and reliability are our paramount concerns when putting engines together.  "Stage who?" is our stage and the stage that sets the standard in the racing world. We do not believe in these stages that the other guy created. We all know that these stages are a joke.
It all starts with a core
We do not cut corners on the core that we begin with. Every core we use is disassembled, cleaned and thoroughly inspected before being selected. Frost plugs are removed and replaced and squirters are disassembled, cleaned and inspected or replaced as needed. Surface is decked and the cylinders are honed with a deck-plate in a climate controlled environment. Block is clearanced as needed. Pistons, rods and crankshaft are installed, assembled and balanced
Let Us Do The Hard Work!
 The ease of install is exactly what we will provide you with! A simple drop, plug and play experience is all you will have. Fully assembled and sealed from valve covers down to the oil pan. Save yourself the headache, you will receive the engine already timed with the front covers on!
Stage Who?
20yrs of Street Cred
With wins in many championships such as the NHRA our crate motors have proved themselves over and over again in action. Not only have they won they have also took world records. We focus on providing our customers with not just high horse powered motors but race winning motors. We don't want our customers to just break hearts of their local competition; we want our customers to make history with the results they achieve.
Nissan VR38DETT engine specs
Manufacturer
Yokohama Plant
Also called
Nissan VR38
Production
2007-present
Cylinder block alloy
Aluminum
Configuration
V6
Valvetrain
DOHC
4 valves per cylinder
Piston stroke, mm (inch)
88.4 (3.48)
Cylinder bore, mm (inch)
95.5 (3.76)
Compression ratio
9.0
Displacement
3799 cc (231.8 cu in)
Power output
353 kW (480 HP) at 6,400 rpm
357 kW (485 HP) at 6,400 rpm
390 kW (530 HP) at 6,400 rpm
405 kW (545 HP) at 6,400 rpm
416 kW (565 HP) at 6,800 rpm
441 kW (600 HP) at 6,800 rpm
Torque output
588 Nm (434 lb·ft) at 3,200-5,200 rpm
588 Nm (434 lb·ft) at 3,200-5,200 rpm
612 Nm (451 lb·ft) at 3,200-6,000 rpm
632 Nm (466 lb·ft) at 3,200-5,800 rpm
633 Nm (467 lb·ft) at 3,300-5,800 rpm
652 Nm (481 lb·ft) at 3,600-5,600 rpm
Redline
7,000
HP per liter
126.3
127.7
139.5
143.5
148.7
157.9
Fuel type
Gasoline
Weight, kg (lbs)
276 (608)
Fuel consumption, L/100 km (mpg)
-City-Highway-Combined
for GTR R35
16.9 (14)
8.8 (27)11.7 (20)
Turbocharger
 2x IHI RHF55
Oil consumption , L/1000 km
(qt. per miles)
up to 1.0
(1 qt. per 600 miles)
Recommended engine oil
0W-40
10W-40
Engine oil capacity, L (qt.)
5.0 (5.3) 2007-2011
5.5 (5.8) 2011+
Oil change interval, km (miles)
5,000-10,000
(3,000-6,000)
Normal engine operating temperature, °C (F)
–
Engine lifespan, km (miles)-Official information-Real

–200,000+ (120,000)

Tuning, HP-Max HP-No life span loss

700+–

The engine is installed in
Nissan GTR R35Nissan Juke R
Технические характеристики
Двигатель NISSAN GTR VR38DETT новым представителем Ниссан. Этот мотор обладает высоким сроком службы, и повышенной мощностью. Силовой агрегат стал логическим новой линейки движков с маркировкой VR. Основой для нового двигателя послужил VQ37VHR.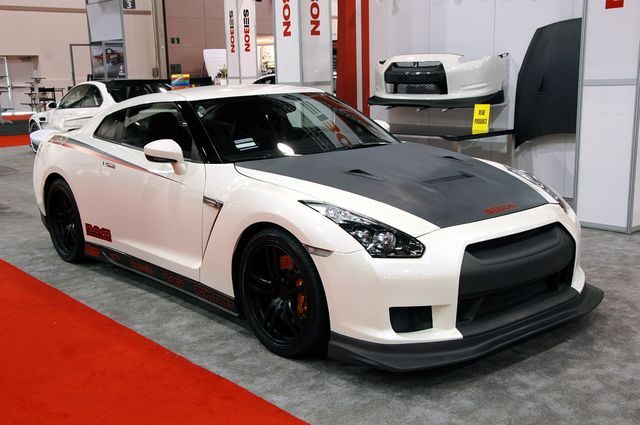 Nissan GTR с мотором VR38DETT.
Высота блока цилиндров на ГТР 244 мм, в него установлен коленвал с ходом поршня 88.4 мм, шатуны длинной 165 мм, поршни с компрессионной высотой 34.3 мм, под степень сжатия 9. Все это дало возможность получить 3.8 литра рабочего объёма.
Сверху две алюминиевые ГБЦ с 4-мя клапанами на цилиндр и с системой непрерывного изменения фаз газораспределения на впускных распредвалах CVTCS. Характеристики стандартных распредвалов на VR38DETT: фаза 238/248, подъем 9.56/9.88 мм. Диаметр впускных клапанов 37 мм, выпускных 32.2 мм, диаметр стержня 6 мм.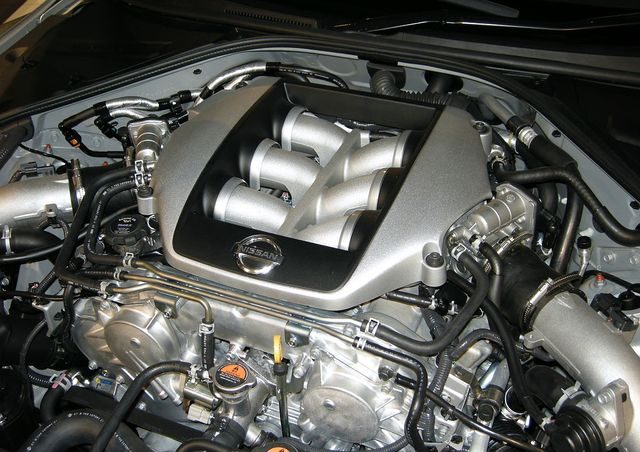 Двигатель VR38DETT под капотом Ниссан.
Впускные распредвалы приводятся в движение с помощью цепи ГРМ, которые в свою очередь, с помощью двух маленьких цепей, приводят в движение выпускные. Служит цепь ГРМ достаточно надёжно, но после 100 тыс. км желательно проверять ее состояние.
Двигатель VR38DETT оснащается двумя турбокомпрессорами IHI RHF55, Давление наддува в стоке равно 0.75 бар. Этого достаточно чтобы получить мощность 485 л.с. при 6400 об/мин и крутящий момент 588 Нм при 3200-5200 об/мин.
Рассмотрим, основные технические характеристики силового агрегата: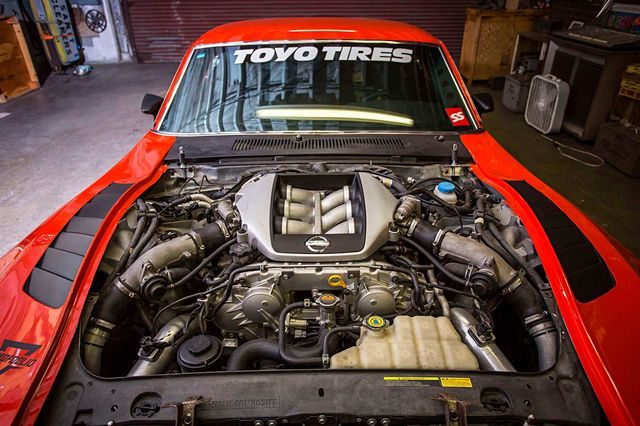 VR38DETT в спорткаре Ниссан.
Наименование

Характеристика

Производитель

Tochigi Plant

Марка

VR38

Маркировка

3.8 литра или 3799 см. куб

Тип

Инжектор

Мощность

480/6400
485/6400
530/6400
545/6400
565/6800
600/6800

Крутящий момент

588/3200-5200
588/3200-5200
612/3200-6000
632/3200-5800
633/3300-5800
652/3600-5600

Топливо

Бензин

Клапанный механизм

24 клапанный

Количество цилиндров

6

Расход горючего

11.7 литров

Диаметр поршня

95.5 мм

Применяемое масло

0W-40
10W-40

Экологическая норма

Евро-5-6

Ресурс

200+ тыс. км

Устанавливался на:

Nissan GTR R35
Nissan Juke R
Nissan VR38DETT engine reliability, problems and repair
In 2007 Nissan GTR became a successor of famous Nissan Skyline GTR. In this car sport twin turbo VR38DETT was installed, instead of RB26DETT. This engine is assembled manually by specially qualified staff at Yokohama Plant. It was developed on basis of VQ37VHR, but the cylinder block was completely remade.
Below we will tell about the main differences between VR38 and VQ37.
VR38DETT cylinder block has remained aluminium 60° V6, as before, but instead of cast-iron liners, plasma coating of low-carbon steel layer is used (0.15 mm thick). GTR R35 has 244 mm cylinder block. Inside camshaft with 88.4mm piston stroke is installed, 165 mm connecting rods, pistons compression height is 34,3 mm, and compression ratio is 9. All these mods made possible gaining 3,8L displacement.
Cylinder block is covered with two aluminium heads with four valves per cylinder and continuous variable valve timing CVTCS on intake camshafts.
VR38DETT cams: duration 238/248 deg, lift 9.56/9.88 mm. The diameter of intake valves is 37 mm, the exhaust – 32.2 mm, and the stem is 6 mm in diameter.
Intake cams are set in motion with help of timing chain. Then thanks to two small chains intake cams set in motion the exhaust ones. VR38 timing chain is quite reliable, but after 60,000 miles of mileage (100,000 km) it is advisable to check its state.
VR38DETT uses two IHI RHF55 turbochargers. Boost pressure on stock engine is 11 psi (0.75 bar).
It is enough to get 485 HP at 6,400 RPM and torque 588 NM at 3,200-5,200 RPM.
In the middle of November, 2010, restyled Nissan GTR was represented. Its engine developed 530 HP at 6,400 RPM, and torque was 612 NM at 3,200-6,000 RPM. This engine VR38DETT mainly differed with increased boost pressure up to 13 psi (0.9 bar) and also somewhat improved intake system, and the exhaust system of bigger diameter.
In the end of November, 2011, Nissan GTR was upgraded. More efficient fuel injectors were installed, new oil pan, BOV, intake manifold and ECU reflash were updated. It increased the power to 545 HP at 6,400 RPM, and torque to 632 NM at 3,200-5,800 RPM.
In the end of 2013 Nissan GTR Nismo was introduced. Its engine developed 600 HP at 6,800 RPM, and torque reached 652 NM at 3,600-5,600 RPM. That VR38DETT was equipped with turbochargers IHI from Nissan GTR Nismo GT3, and also it used new fuel pump and improved ignition system.
In 2016 VR38DETT was restyled again. Boost pressure was increased to 13.5 psi (0.94 bar), ignition system was modified, titanic exhaust system was installed. It let gaining 565 HP at 6,800 RPM and torque 633 NM at 3,300-5,800 RPM.
Along with VR38DETT, the version VR30DDTT is produced. It has smaller displacement and direct injection system.
Nissan VR38DETT engine problems and malfunctions
Stock VR38DETT engines are very reliable and will not give you any troubles. They can drive 100,000-120,000 miles of mileage (150,000-200,000 km) or even more. This is the perfect index for a powerful sport car. Unfortunately, for now it is impossible to know the lifespan limit, Nissan GTR with really high mileage probably does not exist.
Тюнинг двигателя Теана / Мурано / 350Z / G35 / FX35 VQ35DE
Чип-тюнинг и атмо
Данный мотор имеет колоссальные резервы по увеличению мощности и этим грех не воспользоваться. Можно поехать на чип-тюнинг и добавить себе ~10 лошадей, но имея такой мотор, это не совсем разумно. Наша задача серьезно увеличить мощность, а без верховых валов этого не добиться, поэтому заказываем распредвалы с фазой 272/272, разрезные шестерни, болты шатунов, кованую поршневую с увеличенной СЖ, форсунки 440 сс, делаем портинг ГБЦ (это дает улучшенное наполнение цилиндра и отвод отработанных газов, за счет расточки и полировки впускных и впускных каналов). Также нужны увеличенные клапаны, пружины, впускной ресивер (часто используется Kinetix), холодный забор воздуха, два равнодлинных паука, выхлоп прямоток, мозг Мотек
На выходе можно получить до 400 л.с., важно использовать качественные комплектующие иначе результат может не оправдать ожиданий. Стоимость постройки злого атмосферника VQ35DE весьма высока, поэтому основная масса тюнеров идет по пути наддува, о нем поговорим ниже
Компрессор на VQ35DE
Под наддув понадобится кованая ШПГ с низкой СЖ (около 8.5-8.8) и гильзы, при давлении до 0.4 бар ШПГ можно не менять и блок не гильзовать, нужен будет усилитель блока цилиндров, сам компрессор кит (на ваш вкус), валы с фазой 256, форсунки 600сс, портинг ГБЦ, бензонасос Walbro 255, прямоточный выхлоп. На стандартной поршневой и наддуве 0.4 бар, мы получим до 400 л.с. На сток поршневой можно снять около 400 л.с. с колес, а на двигателе VQ35HR даже 450 л.с.
На кованой поршневой и более мощном чарджере можно снять 450 л.с. и более, в зависимости от типа компрессора и наличия строкер кита.
Турбо кит на VQ35DE. VQ35DET. VQ35DETT
Для правильного турбирования VQ35DE подойдет вышеописанная конфигурация на кованой поршневой с гильзами, вместо компрессор кита используем турбо кит, мощность будет около 450-500 л.с. и более, в зависимости от типа используемых турбин. Двигатель VQ35DE позволяет снять более 1000 л.с., но для этого нужно многое заменить, к тому же такие проекты единичные и нет смысла о них здесь говорить.
РЕЙТИНГ ДВИГАТЕЛЯ: 5-
Maintenance data
Valve clearance (HOT)
Intake valve
0.304-0.416 mm (0.012-0.016 in)
Exhaust valve
0.308-0.432 mm (0.012-0.017 in)
Valve clearance (COLD)
Intake valve
0.26-0.34 mm (0.0102-0.0134 in)
Exhaust valve
0.29-0.37 mm (0.0114-0.0146 in)
Compression pressure
Standard
9.9 kg/cm2 (145 psi) / 300 rpm
Minimun
8.1 kg/cm2 (115 psi) / 300 rpm
Compression differential limit between cylinders
1.0 kg/cm2 (15 psi) / 300 rpm
Oil system
Oil consumption , L/1000 km (qt. per miles)
up to 0.5 (1 qt. per 1200 miles)
Recommended engine oil
Mobil 1 (0W-40)
Engine oil capacity (Refill capacity)
With filter change 5.0 L (5.3 US. qts, 4.4 Imp. qts)
Without filter change 4.5 L (4.8 US.qts, 4.0 Imp. qts)
Oil change interval, km (miles)
10,000 (6,000)
Ignition system
Spark plug
NGK DILKAR8A8
Spark plug gap
0.7-0.8 mm (0.0276-0.0315 in)
Spark plug tightening torque
19.6 Nm (2.0 kg⋅m, 15 ft⋅lb)
Valve clearance adjustment data
Calculate the thickness of the new adjusting valve lifter so valve clearance comes within specified values.
R = Thickness of removed valve lifter
N = Thickness of new valve lifter
M = Measured valve clearance
Intake:
N = R + Exhaust:
N = R +
Valve lifters are available in 27 sizes to range from 7.88 mm (0.3102 in) to 8.40 mm (0.3307 in), in steps of 0.02 mm (0.0008 in).
Example (exhaust valve):
R = 7.90 mm
M = 0.52 mm
N = 7.90 + (0.52 – 0.34) = 8.08 mm, so we need a valve lifter with identification mark 808.
| | | |
| --- | --- | --- |
| | Cold | Hot |
| Intake | 0.26-0.34 mm (0.010-0.013 in) | 0.304-0.416 mm (0.012-0.016 in) |
| Exhaust | 0.29-0.37 mm (0.011-0.015 in) | 0.308-0.432 mm (0.012-0.017 in) |
Неисправности и ремонт
Двигатель NISSAN GTR VR38DETT достаточно надёжный, но и у него имеется ряд проблем, которых не избежать. Проблемы силового агрегата, такие же, как и у VQ35DE. Рассмотрим, основные неисправности, которые возникают в процессе эксплуатации мотора: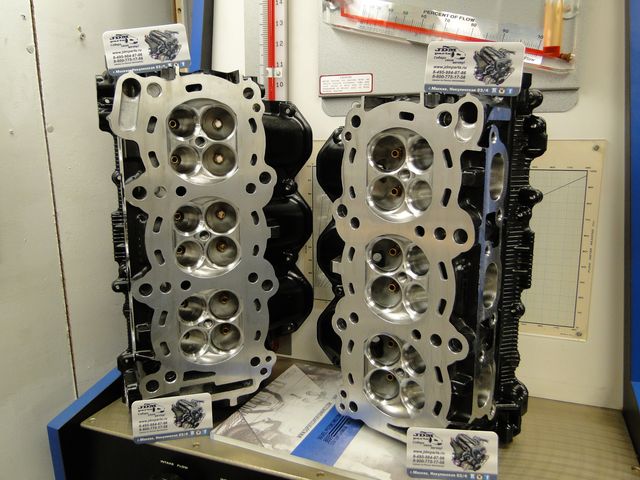 Головки блока цилиндров VR38DETT.
Потеря мощности, нестабильный холостой ход. Необходимо проверить крышки выпускных распределительных валов.
Перегрев. Стоит проверить термостат, а также наличие пробок в системе охлаждения.
Жор моторного масла. Стоит проверить наличие подтёков и подкинуть маслосъёмные кольца. Ещё, причиной может стать неисправность катализатора.
Как видно, глобальных проблем мотор не имеет, а поэтому может считаться надёжным силовым агрегатом.
Cylinder head
The cylinder head is made of strong, light aluminum alloy which gives it good cooling efficiency. The VR38DETT engine is equipped with a hydraulically actuated CVTC (Continuous Variable Valve Timing Control) system for intake cams. This mechanism hydraulically controls cam phases continuously with the fixed operating angle of the intake valve.
The camshafts are driven by single primary and two secondary chains. The primary timing chain transmits the rotational movement from the crankshaft to the intake camshafts, the secondary chains connect intake and exhaust sprocket on each head respectively.
The intake valve diameter is 37.0 mm (1.45 in) and the exhaust valve diameter is 32.0 mm (1.26 in), the intake valve duration is 238° and the exhaust valve duration is 248°. The VR38DETT motor does not have hydraulic lifters, so special valve lifters are used to adjust the valve clearance.
Cylinder head
Block head alloy
Aluminium
Valve Arrangement:
DOHC, chain drive
Cylinder head height:
126.3-126.5 mm (4.97-4.98 in)
Valves:
24 (4 valves per cylinder)
Intake valve timing:
2238°
Exhaust valve timing:
248°
Valve head diameter:
INTAKE
37.0-37.3 mm (1.456-1.469 in)
EXHAUST
32.0-32.3 mm (1.2598-1.2717 in)
Valve length:
INTAKE
94.96 mm (3.7386 in)
EXHAUST
91.96 mm (3.6205 in)
Valve stem diameter:
INTAKE
5.965-5.980 mm (0.2348-0.2354 in)
EXHAUST
5.955-5.970 mm (0.2344-0.235 in)
Valve spring free length:
INTAKE
47.52 mm (1.8709 in)
EXHAUST
53.81 mm (2.1185 in)
Exhaust camshaft journal diameter:
№1
25.935-25.955 mm (1.0211-1.0218 in)
№2, 3, 4
23.445-23.465 mm (0.923-0.9238 in)
Camshaft lobe height:
INTAKE
44.865-45.055 mm (1.7663-1.7738 in)
EXHAUST
45.185-45.375 mm (1.7789-1.7864 in)
Nissan VR38DETT engine tuning
Stage 1-2
GTR R35 has good potential to increase power with help of OEM turbochargers.
The cheapest and most simple variant is usual aggressive ECU reflash. You should purchase Cobb AccessPORT, and changing the maps you will gain about 570-580 horsepower. If your GTR was produced till the end of 2010, then the power will be about 540-550 horsepower. If you add downpipe, then you will get about 600 horsepower. On early GTR it will be about 560-570 HP.
Buy 3.5 inch performance exhaust system, 3 inch intake system, cold air intake, fuel injectors 1100 cc/min and two Walbro 255 lph fuel pumps. Then you will gain 650 horsepower, and on race fuel your Nissan GTR will show about 700-720 horsepower.
This is the limit both for stock turbochargers and for your car to stay reliable and comfortable for everyday driving. Besides, at greater power you should reinforce transmission, therefore 700 HP for Nissan GTR is the best option. The modified Nissan GTR like this can drive ¼ miles per low 10 seconds.
Besides Cobb, you can use Ecutek, this is also the perfect and very fast variant.
For gaining reliable 800 horsepower, it is better to use reputable HKS GT800 turbo kit, big intercoolers, and also forged pistons, H-beam rods, performance cams, etc. It is expensive, but extremely fast.
Cylinder block
The Nissan VR38DETT has an aluminum cylinder block with plasma-sprayed cylinder liner bores and a four-bearings crankshaft supported system, forged steel connecting rods, a micro-finished one-piece forged crankshaft. The crankshaft journal diameter is 64.975 mm (2.5581 in), the crankpin diameter is 55.960 mm (2.2031 in).
The cylinder bore is 95.5 mm (3.760 in), piston stroke is 88.4 mm (3.48 in) and the compression ratio rating is 9.0:1. The Nissan VR38DETT motor has two compression and one oil control rings.
Cylinder block
Cylinder block alloy
Aluminium
Compression ratio:
9.0:1
Cylinder bore:
95.5 mm (3.760 in)
Piston stroke:
88.4 mm (3.48 in)
Number of piston rings (compression / oil):
2 / 1
Number of main bearings:
4
Cylinder inner diameter (standard):
95.500-95.510 mm (3.7598-3.7602 in)
Piston skirt diameter (standard):
95.480-95.490 mm (3.759-3.7594 in)
Piston pin outer diameter:
22.989-22.995 mm (0.9051-0.9053 in)
Piston ring side clearance:
Top
0.040-0.080 mm (0.0016-0.0031 in)
Second
0.030-0.070 mm (0.0012-0.0028 in)
Oil
0.045-0.125 mm (0.0018-0.0049 in)
Piston ring end gap:
Top
0.250-0.350 mm (0.0098-0.0138 in)
Second
0.450-0.550 mm (0.0177-0.0217 in)
Oil
0.200-0.450 mm (0.0079-0.0177 in)
Connecting rod bushing inner diameter:
23.000 mm (0.9055 in)
Crankshaft main journal diameter:
64.975 mm (2.5581 in)
Crankpin diameter:
55.960 mm (2.2031 in)